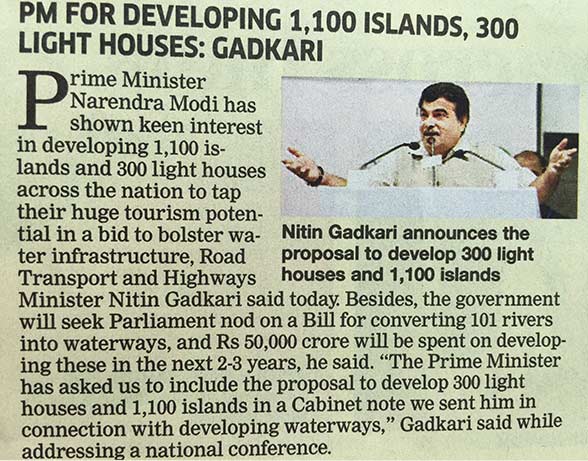 The govt will seek Parliament nod for converting 101 rivers into waterways, and Rs50,000 crore will be spent on it in next 2-3 years, says Gadkari
PM Modi for developing 1,100 islands, 300 light houses: Nitin Gadkari
New Delhi: Prime Minister Narendra Modi has shown keen interest in developing 1,100 islands and 300 light houses across the nation to tap their huge tourism potential in a bid to bolster water infrastructure, road transport and highways minister Nitin Gadkari said on Tuesday.
Besides, the government will seek Parliament nod on a Bill for converting 101 rivers into waterways, and Rs50,000 crore will be spent on developing these in the next 2-3 years, he said.
"The prime minister has asked us to include the proposal to develop 300 light houses and 1,100 islands in a Cabinet note we sent him in connection with developing waterways," Gadkari said while addressing a national conference on Inland Waterways organised by FICCI in New Delhi.